Human Resource Best Practices in 2016: Practice of Successful Organizations
Event information

| | |
| --- | --- |
| Start: | |
| End: | |
| Venue: | FIU @ I-75 1930 SW 145th Ave, Miramar, FL 33027 |
Modern best practice does more than just improve efficiency, it renovates your entire HR operations. As we make our way into 2016, as HR practitioners, there are many different things we need to be aware of throughout the New Year to create effectiveness. The best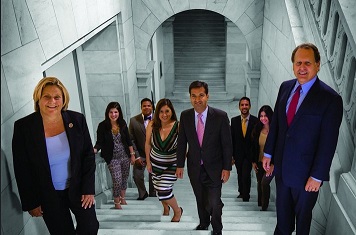 practice tools addressed within this seminar will equip your business maintain momentum throughout while contributing to the overall success of our organizations.
"Today, HR Professionals in almost every industry are coping with an array of huge new problems: the growth of global markets, rapid creation of new technologies, skill gaps in critical positions, and increased productivity demands," said Gwen Callas-Miller, Executive Director, Global Talent Development, Textron. These are the initial building blocks that will help HR leaders deliver the best possible business decisions.
During this session, topics include:
1. Talent Management. Dr. Jaffus Hardrick, Vice President of Human Resources and Vice Provost for Student Access & Success at Florida International University (FIU); El Pagnier Hudson, Assistant Vice President, Human Resources at Florida International University (FIU); Gail Hansen, Director, Talent Acquisition & Management at Florida International University (FIU).
What some employers do not know is that the U.S. labor market is only at the beginning of what some human resources (HR) experts are calling the "workforce meltdown" the clash between a diminishing supply of qualified workers and the explosive increase in need for those workers. The resulting competition for highly skilled "knowledgeable workers" will result in fierce competition in pay, benefits, flexible work arrangements, etc. Employers will need to rethink the workplace environment, nontraditional work arrangements, new recruiting resources, and how to attract employees who have left the workforce back to work.
2. Onboarding New Hires and Innovations. Ms. Maria Ruiz, Director, Human Resources, Ryder Solutions, Inc.
Modern best practice enables social media and online tools to break down traditional new-hire barriers while teaching the knowledge, skills, and behaviors needed to become effective organizational members have led to tremendous developments in the ability to plan your workforce by bringing your best assets, your people, onboard.
Modernize and Simplify HR Operations:
Onboarding has replaced orientation and is more about retaining talent than just getting people settled in their new jobs
How corporate social tools can facilitate completion and status updates of orientation tasks, training, and introductions to enhance quick ramp-up for new hires
Online onboarding is an effective way to get the new hires enthused about the company, department, and team and what that means for retention
How to monitor a new hire's adjustment, attitude, productivity, and retention using successful onboarding tools
The myths and facts about onboarding and how to redesign onboarding by using social media
How surveys and metrics build a business case for online onboarding
3. Culture and Diversity. Memorial Healthcare Systems Representative, Dr. Susana Bruns-Ali, Associate Profession, Public Administration at Florida International University (FIU).
The culture of an organization is an integral part to attracting and retaining talent. Every organization is different and has its culture and being aware of the factors that contribute to the culture of an organization allows for continuous improvements that will lead to employee satisfaction.
Workplace diversity refers to the variety of differences between people in an organization. While this sounds modest, diversity deals with gender, race, ethnicity, age, organizational function, education, background, sexual orientation, etc. Not only does diversity comprise of how people perceive themselves, but how they perceive others as well.
Diversity will increase considerably in the coming years, successful organizations recognize the need for immediate action and actively assess their handling of workplace diversity issues, develop and implement diversity plans, etc. while creating a conducive culture.
4. Retention (Communicating Expectations). Mr. Dale Pazdra, Director, Human Resources at City of Coral Springs. *
We have a retention crisis. Deloitte research shows that culture, engagement, and employee retention are now the top talent challenges facing business leaders. More than half business leaders rate this issue "urgent" up from only around 20% last year.
As with any organization, layoffs are something we all would like to avoid. While things seem to be improving, the economy and job market are still not where they were before the fall out. It is still important to plan accordingly and be cautious as we go into the New Year.
Retaining a positive and motivated staff is important to an organization's success. High employee turnover increases expenses and also has a negative effect on an organization's morale. Implementing an employee retention program is an effective way of making sure key employees remain employed while maintaining job performance and productivity.