Innovative Infrastructure Finance
Event information

| | |
| --- | --- |
| Start: | |
| End: | |
| Venue: | FIU Downtown Brickell 1101 Brickell Avenue, FDBS 226 Miami, FL 33131 |
*AICP credits available
ABOUT THIS COURSE
Meeting the infrastructure financing challenge has emerged as one of the most urgent issues facing the country. To bridge the financing gaps, governments have turned to creative ways of financing public infrastructure investments. This training aims to:
Program objectives:
Discuss recent innovations in infrastructure financing (transportation)
Illustrate best cases where governments have explored innovative methods of infrastructure financing
Offer hand-on skills and knowledge for government practitioners who are considering the use of innovative infrastructure financing options
Inability to combine public and private finances for PPPs
Pre-construction risks / transaction costs
Under-developed capital markets and lack of local currency debt financing
Knowledge gap in innovative infrastructure finance policies and implementing PPPs
Learning outcomes:
Introduction: Why Do We Care About Infrastructure?
Caution Ahead: Understanding the Challenges of Infrastructure Financing
Traditional Methods of Infrastructure Financing
Emerging Innovative Infrastructure Financing: Best Practices and Lessons Learned
New infrastructure funding sources
New infrastructure financing mechanisms
New infrastructure financial arrangements
Taking Action: Putting Innovation into Practice
ABOUT THE INSTRUCTOR – Can Chen and Chris Hodgkins
Can Chen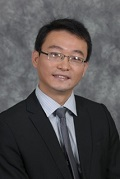 Dr. Chen is an Assistant Professor of Public Budgeting and Finance who joined the Department of Public Administration at FIU in Fall 2015. He received a Ph.D. degree in Public Administration from the University of Nebraska Omaha in Summer 2015. His research agenda focuses on developing sound capital planning and budgeting practices for public and nonprofit sectors, and promoting innovative, efficient, and effective infrastructure financing to support critical infrastructure that is sustainable in its financing and funding, use, performance, and maintenance. His current research interests include capital budgeting and finance, innovative infrastructure finance (transportation and environmental infrastructure), infrastructure accounting and reporting, and infrastructure performance management.
Dr. Chen's work has been published in the academic journals of Public Finance Review (the lead author), Public Budgeting and Finance (single-authored, forthcoming), Municipal Finance Journal (single-authored, forthcoming), Public Works Management and Policy (single-authored), and Food Studies: An International Journal. He has also published three single and co-authored chapters in the books of Encyclopedia of Public Administration and Policy (Public Budgeting and Finance Section), Sustaining the States: The Fiscal Viability of American State Governments, and Voices of Hunger: Food Insecurity in the United States. He has frequently presented his research at the annual meetings of the American Society for Public Administration (ASPA), the Association for Public Policy and Management (APPAM), the Public Management Research Association (PMRA), the Association for Budgeting and Financial Management (ABFM), and the Western Social Science Association (WSSA). His research has received several national awards: the 2014 NASPAA Pi Alpha Alpha Best Doctoral Student Manuscript Award, the 2014 Best Student Paper Competition (an Honorable Mention Award) for the ASPA Section on Transportation Policy & Administration, and the 2013 ASPA Founders' Forum Fellowship. At FIU, he teaches MPA courses on public financial management and quantitative methods.
Chris Hodgkins
As the Miami Access Tunnels' Chief Executive Officer Chris Hodgkins is in charge of the operations, maintenance, public affairs and outreach for the $1 billion design, build, finance and operate (DBFO) contract that will represent 35 years of infrastructure innovation building a tunnel to connect the Port of Miami to I 95. The Miami Access Tunnel is the first Public Private Partnership (P3) in South Florida.
As the CEo, he has been recognized for his energetic work with local communities, vendors and labor unions for his initiation of "OPERATION 305", a program to aggressively pursue people and businesses from the Miami Dade area for inclusion on the Port of Miami Tunnel Project. Over 80% of all jobs and over $300 million dollars have been targeted to those in the 305 area code (Miami-Dade County). The on time and under budget tunnel construction was completed 6 days ahead of schedule and $90 million under budget.
Since the opening of the Tunnel over 80% of all truck traffic has been eliminated in downtown Miami. Operational excellence and innovation is always the goal for the Tunnel. In October of this year, Chris and the Tunnel team won the National "Best Operations" award from the P3 Hub at the North American Conference.
Prior to working with the Miami Tunnel, Chris helped create and operate three of the nation's top Public Private Partnerships. Most recently Chris served as the Vice President and Business Development Leader for AECOM, during this time he helped establish the teams to successfully win two of the largest Design/Build and P3 water projects in South Florida.
Chris has over 20 years of experience in municipal infrastructure and public sector development. His goal has been to always promote opportunity, diversity and cooperation on all aspects' of public construction. Most recently Chris served as Chair of the Miami Dade P3 Task Force.