Hurricane Risk and Sea Level Rise Webinar
Event information

| | |
| --- | --- |
| Start: | |
| End: | |
| Venue: | Online |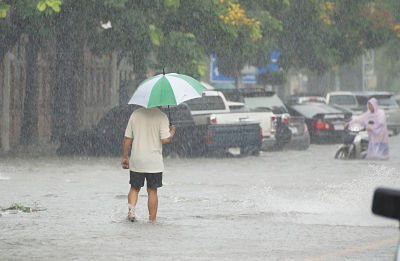 Hurricane Irma, which made U.S. landfall in the Florida Keys as a Category 4 storm with 130 mph winds, exposed the vulnerabilities of coastal communities and infrastructure, and raised important questions about preparedness, mitigation and growth. After a decade of "quiet" hurricane seasons, in 2016 (Matthew) and then Irma in 2017 caused significant wind and water damage.
Metropolitan Center researchers will present the findings of their annual hurricane preparedness survey, the changing insurance environment in Florida and other topics related to hurricane mitigation. Of particular focus in the discussion will be the landscape of local government planning and flood insurance, and how it affects the development, affordability and resilience of coastal areas.
Here's how Hurricane Irma stacks up against some of the biggest hurricanes in recent decades:
Category, wind speed
Hurricane Andrew, in 1992, landed in the US as a Category 5 with 143 mph winds.
Hurricane Frances, in 2004, was a Category 2 with 105 mph winds.
Hurricane Jeanne, also in 2004, was a Category 3 with 120 mph winds.
Hurricane Katrina, in 2005, which landed three times in the United States in Categories 1, 3 and 5, had winds of 125 mph.
Hurricane Rita, also in 2005, was a Category 3 with winds of 115 mph.
Hurricane Wilma, also in 2005, was a Category 3 with winds of 125 mph.

Evacuations
Irma: More than 6 million
Andrew: 1 million
Frances: 2.8 million
Jeanne: 2.5 million
Katrina: 1.5 million
Rita: more than 2.5 million
Wilma: 760,000

Deaths
A death count for Irma has not yet been compiled, currently 34
Hurricane Andrew: 65
Frances: 7
Jeanne: 6
Katrina: 1,833
Rita: 7
Wilma: 25

Damages
A complete damage estimate for Irma has not yet been compiled.
Andrew: $25 billion
Frances: $12 billion
Jeanne: $6.9 billion
Katrina: $108 billion
Rita: $10.5 billion
Wilma: $29 billion
Sources: Time.com, CNN.com, Weather.gov, HurricaneScience.org, SunSentinel.com
Don't miss out on the Metropolitan Center's Annual Hurricane MetroForum and Poll Results!
*The link to the webinar will be emailed to event registrants.